Dubai visa on Arrival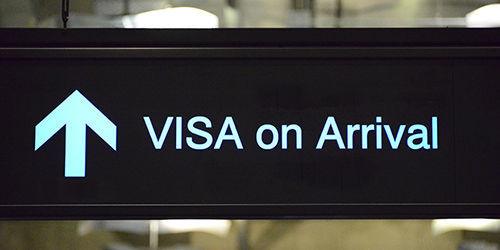 Can I get visa on arrival in Dubai?
Dubai visa on arrival is made fairly easy in order to promote tourism and shopping in the country. In recent years, Dubai has also become a popular tourist destination. The fancy buildings and shopping festivals are something that everyone wants to visit. Moreover, the Dubai visa on arrival facility makes it even easier for people who want to travel to Dubai for a short period.
Visa exemption for EU Citizens:
Citizens of the European Union can now enter the United Arab Emirates without a visa. A corresponding agreement was signed on 6 May 2015 between representatives of the EU and the Ambassador of the United Arab Emirates in Brussels. So far, travelers from the European Union have been allowed to stay in the United Arab Emirates for 30 days. The required visa was issued directly upon arrival. After the visa has been omitted, EU citizens are allowed to visit the emirates for a maximum of 90 days within a period of 180 days. Only a valid passport is required. Although the agreement has yet to be ratified by the European Parliament, it has been provisionally put into force until further notice. German nationals are given a free visa (passport stamp) during passport checks to enter the United Arab Emirates.
Eligible Countries for Visa on Arrival
Andorra, Australia, Austria, Bahrain, Belgium, Bulgaria, Brunei, Canada, China, Croatia, Cyprus, Czech Republic, Denmark, Estonia, Finland, France, Germany, Greece, Hong Kong, Hungary, Kuwait, Iceland, Ireland, Italy, Japan, Latvia, Liechtenstein, Lithuania, Luxembourg, Malaysia, Malta, Monaco, New Zealand, Norway, Oman, Poland, Portugal, Qatar, Romania, San Marino, Saudi Arabia, Seychelles, Slovakia, Slovenia, Singapore, South Korea, Spain, Sweden, Switzerland, The Netherlands, United Kingdom and Northern Ireland (Except the British overseas citizens), United States of America and Vatican.
Also, citizens from the Gulf Cooperation Council do not require a visa to visit Dubai.
Processing time and duration of visa
For a 30-day visa, the processing time varied from 3-4 working days. However, the express visa was processed in 24-48 hours. But now with the visa on arrival facility, it is just a matter of few minutes after you arrive at the Dubai airport that you get your visa
Visa Fees
There are no visa fees for countries that are eligible for visa on arrival for Dubai.
Documents Required
You don't need a lot of documents to get your visa stamped at Dubai. Just make sure you have the following things:
1. A confirmed return airline ticket or a ticket to some other destination
2. A valid passport with your signature with enough stamping pages and have an expiry dates more than 6-months from your time of arrival.
The best thing about on arrival visas is also that it does not require long processing time and can be attained very quickly. The Visa on arrival at Dubai airport makes it very easy for people who make impromptu plans of traveling to Dubai. If you belong to one of the above-mentioned nationalities, all you need to do is pack your bags and go for a trip to the beautiful Dubai.